What makes a good learning experience?
Valuable learning experiences that help you grow professionally are what matter most to us at Atrium. Getting the balance between content and form right is one important qualifier.

You may remember from your first years in school as a child and throughout your education as an adult that not all experiences are equally good. So what makes a good learning experience?
Skilled expert on a mission: Meet Stig!
We've asked one of our teachers what he considers a successful learning experience, how he plans his teaching, and what his many years' of teaching have taught him.

Stig Ejdrup Andersen is a Medical Doctor at Zealand University Hospital and a lecturer at the University of Copenhagen. Stig teaches the pharmacology modules that are part of our Danish Pharmaceutical Academy, and he teaches the course on How to read scientific papers.

"I have one very clear goal with all of my teaching: If I can help people make a shortcut to understand fairly complex subject matters, I've accomplished my mission," Stig says.
One size does not fit all
Teaching two very different courses at Atrium, Stig knows all about how there is no fixed recipe to good learning experiences. It all depends on the people in the room and the subject being taught.

"The highly medical heavy pharmacology course has a comprehensive curriculum and much rote learning. It is my job to make it easier to absorb the material. I contribute with a structure, which the students can organize their learning after, so it sticks to one's memory better," Stig explains.

"In contrast to that, the critical reading of articles is much more dialogue based, and the teaching is about activating the knowledge present in the room, debating dilemmas, and creating discussions. Here, there is no need for a structured review of the material, but rather the need to address the dilemmas brought into play."
A shortcut to knowledge
"No matter what subject I teach, or which approach I use, I make sure to also use various methods that help engage the individual student. More than anything, I want to provide my students with an alternative to the troublesome and winding road, I had to follow myself, in order to piece together all I know today. Much understanding comes with experience, but some things can be communicated clearer than they were communicated to me – and that's the difference I try to make with all of my teaching," Stig wraps up.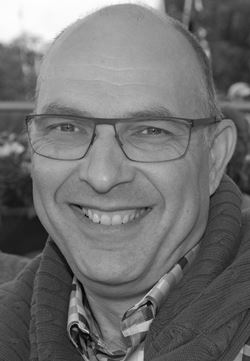 Stig Ejdrup Andersen